Berkshire Cities Respond To New Statewide COVID-19 Orders, Reopening Rollback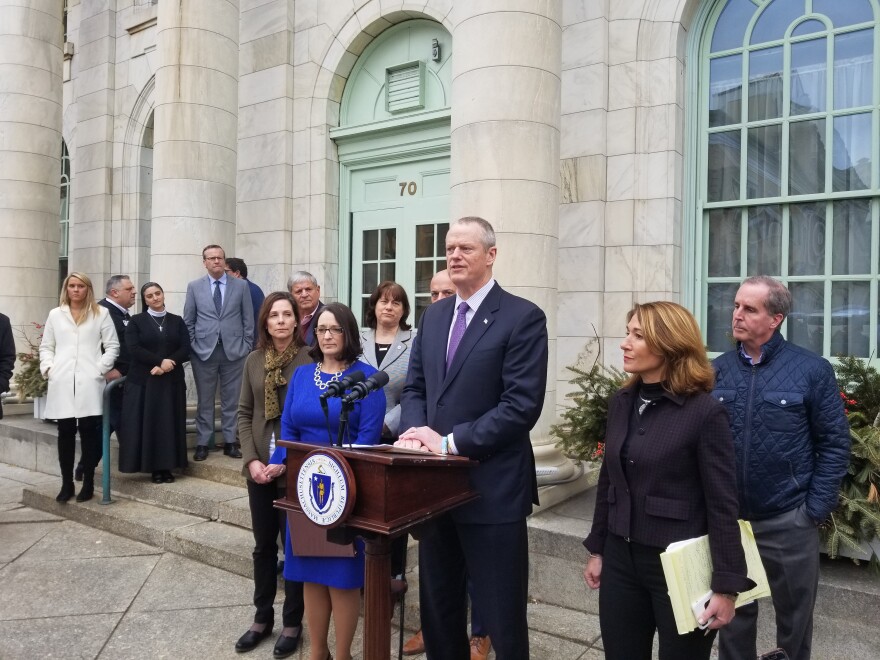 As Massachusetts Governor Charlie Baker rolls back statewide reopening plans due to COVID-19 surges, Berkshire County municipal leaders are working on implementing the updated public health orders.
Starting December 13th, Massachusetts will revert to Phase 3, Step 1 of its reopening plan after daily COVID cases smashed previous state records early in the month. For Berkshire County's largest community, the statewide efforts follow its own extraordinary efforts to contain the virus.
"I think we've been outside of that mainstream since the beginning," said Pittsfield Mayor Linda Tyer. "We closed our schools before the state did the statewide closure. We closed our restaurants for indoor dining for a three-week period because we could see that the data related to indoor dining and private house parties demanded that we make that decision, and then when we got to a point where we were comfortable reopening, we knew we wanted to have some further protective measures in place at restaurants so that we could protect employees and patrons in our restaurants."
When Pittsfield reopened its restaurants last week – the same day the state declared it to be a high risk area for COVID-19 transmission – it imposed new limits that were more stringent than the governor's orders at the time. Those included a maximum of six people per table and mandatory mask wearing when not eating and drinking, measures imposed statewide by Baker days later.
"The COVID-19 taskforce is not afraid to make a hard decision when our community needs to be protected," said Tyer.
Other new statewide orders include all office employees to be masked at their place of work when not at their own workplace and alone.
"Here in all municipal offices, we have already implemented a requirement that people wear masks when they're not seated at their desk," said Tyer. "So I would lead by example, right? And when it comes to enforcement, we will respond to inquiries and complaints that we receive from employees similar to what we've done a lot in the last eight to nine months."
In North Adams, indoor dining has not been interrupted and the city's schools remain open in a hybrid learning model.
"We did not and we have not seen the restaurant situation that Pittsfield saw," said Mayor Tom Bernard. "So we've been watching carefully, and that has not been the same issue for North Adams that it has with Pittsfield. We're watching schools very carefully, we're looking at the data."
Last month, North Adams shuttered Drury High School after a case in the school community. City Council Vice President Jason LaForest told WAMC then that he felt in-person education and indoor dining should have been suspended.
"There are multiple restaurants in North Adams that are closed because of staff members with positive COVID tests," he said. "So I'm not sure that we are doing quite enough."
With much of the new community spread associated with Thanksgiving gatherings, the next hurdle city leaders face is Christmas and New Year's Eve.
"We are working now on a comprehensive public awareness campaign, so stay tuned for more details about that," said Tyer. "And we are also beginning to put together a more proactive enforcement plan, so stay tuned for more details about that."
Bernard says he doesn't have a specific enforcement plan for the coming holidays after the broadly ignored warnings about Thanksgiving, but will intensify public awareness efforts.
"Mayor Tyer and I will be on Pittsfield television on Thursday with some public health folks really trying to talk more about the holiday effect, and what we hope and what we think are the risks and what we think are the best ways to protect yourself and still find a way to celebrate, still find a way to honor the season, to honor the traditions – but to do it in as safe a way as you can," said the mayor.
The distribution of the first round of COVID-19 vaccine shipments to Massachusetts is set to begin as soon as next week if approved by federal regulators. Gov. Baker said Wednesday the state's first shipment of the Pfizer vaccine was ordered Friday. Among those targeted during the first vaccine phase through February include health care workers doing COVID care and those at long-term care facilities, rest homes and assisted living facilities. Baker says 300,000 doses should get to Massachusetts by the end of the year.
"164,000 first doses to clinical and non-clinical healthcare workers doing direct and COVID-facing care," Baker said. "64,000 first doses to first responders and just about 102,000 first doses to congregate care residents and staff. This shipment should contain doses from both Moderna and Pfizer pending FDA authorization."
The second group of people to get the vaccine include adults over the age of 65 and other essential workers. Baker says the vaccine should be available to the general public in the spring.