MGM Springfield Loses Employees To Rival Casino In Eastern Mass.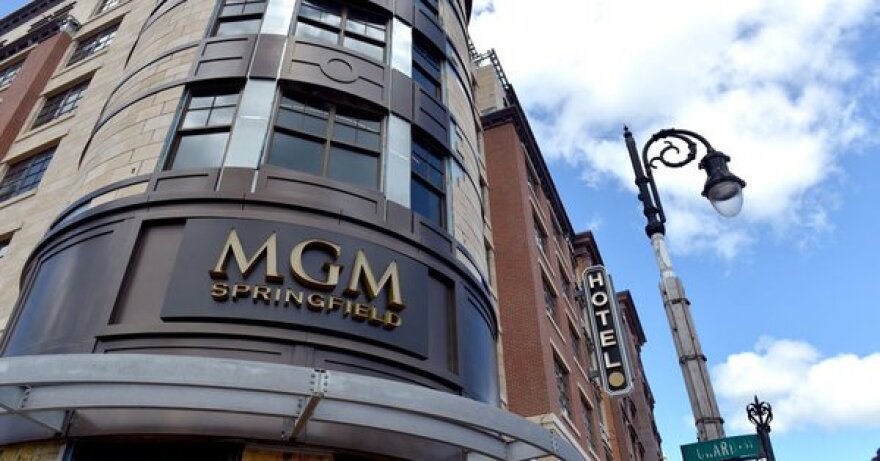 Employment was down at the MGM Springfield casino during the first half of this year.
The new Encore Boston Harbor casino that opened in June has presented MGM with competition for gamblers and now as it turns out for skilled workers.
About 200 people, including 125 experienced table game dealers, quit their jobs at the year-old casino in Springfield to go to work for the newest casino in Massachusetts, according to MGM Springfield President Mike Mathis.
"They got more aggressive with offering our folks opportunities," said Mathis. " Some of this (the employment decline), I feel like, is a one time hit because of Encore that we are trying to recover from."
In a report to the Massachusetts Gaming Commission, which met in Springfield Thursday, MGM said it had 2,054 people working at the resort casino complex at the end of June – down by almost 250 from the employment number reported for the 1st quarter of 2019.
MGM has experienced a 40 percent turnover in employees so far in 2019 – higher than the casino industry norm of 30 percent. Mathis said there are many reasons for it including the difficulty of working in a place that literally never closes.
The state's strong economy with a 3 percent unemployment rate (although it is 6 percent in Springfield) makes it harder to replace people when they leave.
"We need more employees and we continue to go out in the market and try to get them and the success of the economy frankly is something that is hurting those efforts and that is a good problem to have for all of us," said Mathis.
Marikate Murren, the head of human resources for MGM Springfield, said 120 people are currently in the pipeline to be hired, but there are 125 unfilled jobs currently posted with cooks being the position most in demand.
She said MGM is planning in the near future to hold a mass-hiring event – similar to what the company did in the months leading up to the opening of the casino in August 2018.
"I think we need to recreate that excitement that we had 14 or 16 months ago," said Murren.
Before it opened, MGM widely proclaimed it would employ 3,000 people at the Springfield casino complex. Hundreds of people were brought on part time for the opening crush of gamblers. As business has fallen and leveled off, so has employment.
The number of people employed full-time at the casino at the end of June was 1,563 according to the report shared with the gaming commission.
MGM has exceeded its employment targets for hiring Springfield residents, minorities, and military veterans but has come up short with the percentage of women who work at the casino. 44.5 percent of the current workforce is female compared with a goal of 50 percent.
Speaking with reporters, Cathy Judd-Stein, the chair of the gaming commission, said MGM has been diligent in trying to achieve its employment commitments.
" We'll focus on work fairs, we'll focus on making sure people understand the opportunities for a career here at these destination resort casinos," said Judd-Stein.
Gross gaming revenue at the MGM casino was $140 million less than what the company projected for its first year in business in Springfield. But Judd-Stein said the casino industry regulators were not ready to "reset numbers."
She said the commission is satisfied that MGM has been "a great partner to Springfield."