BMC Nurses Hold Candlelight Vigil On Hospital Grounds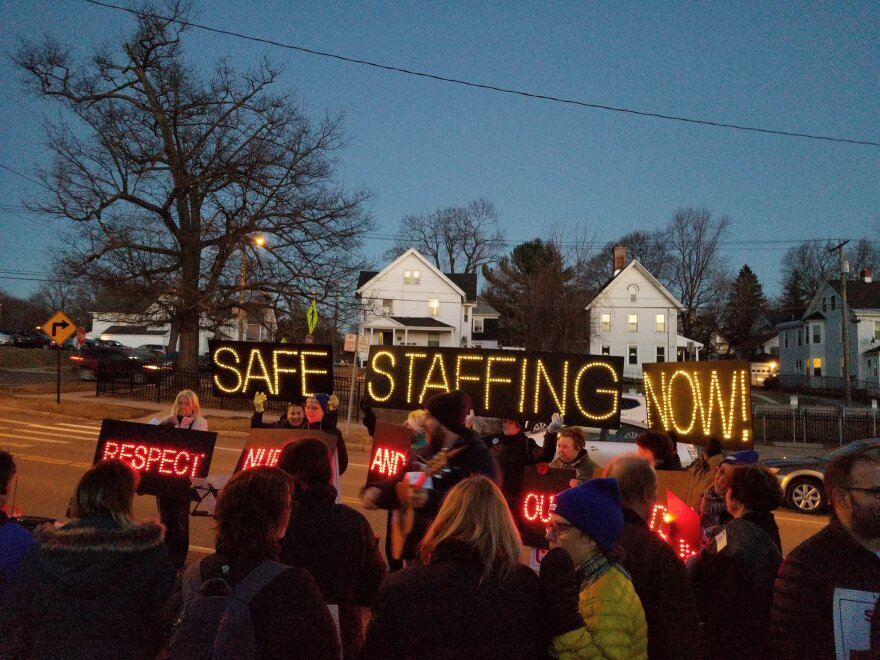 Although a strike was averted, the Massachusetts Nurses Association held a candlelight vigil in front of Berkshire Medical Center Monday night. Contract negotiations with the Pittsfield hospital have dragged on for a year and a half.
Braving the chill of a blustery February evening, dozens gathered to support the nurses of Berkshire Medical Center on the hospital's front lawn. With signs held high, the sound of children playing blended with strong words directed at the hospital's administration.
"We're here to make sure our patients have appropriate staffing levels, to make sure the community knows that we're still fighting for them, and to make sure we have a safe working environment," said Mark Brodeur.
Brodeur is a registered nurse who's worked at BMC for eight years. The core of the nurses' complaint has to do with what they perceive to be inadequate staffing at the hospital. There has been one strike and resulting lockout during the current impasse.
"At this point we'd like to ensure that the charge nurse does not take an assignment," said Brodeur. "Right now it is their staffing plan to have the charge nurse not taking an assign, but all too often it happens anyway. That's really a sort of backup plan that the floors need to ensure that if a patient gets sick all of a sudden, if they start to decompensate and really need extra hands they have that available, if too many admissions comes at once there's someone to organize that and get people settled in, and if a nurse is overwhelmed by her assignment to make sure that the patient that hasn't gotten a detention gets their antibiotics hung and things aren't delayed for the other patients."
Berkshire Health Systems spokesman Michael Leary said the hospital had no comment on the nurses' demonstration.
The vigil, organized by the Massachusetts Nurses Association, was promoted as an event for patient safety. Representatives of the Berkshire Central Labor Council spoke alongside aspirant Democratic politicians and members of IUE-CWA. It drew allies of the nurses' cause from across the county.
Jason LaForest is now a North Adams city councilor and was endorsed by the MNA in his run. He works for Berkshire Healthcare, a sister corporation to Berkshire Health, which owns Berkshire Medical Center.
"I think the push for safe patient care here in Pittsfield by the nurses of Berkshire Medical Center flows out throughout the county because residents and patients at every level and in every corner of county do need safe patient care, they need quality competent nursing care, and I think ultimately that's the goal of the union," said LaForest.
Despite unresolved bargaining sessions — some stretching as long as 17 hours — and the demands of maintaining a constant barrage against the hospital, the tone of the demonstration was positive. Signs with slogans like "safe staffing now" and "respect" spelled out in lights drew honks from passing cars on North Street.
Kathy Cimini is a registered nurse who sits on the union bargaining committee. With more than 40 years at BMC under her belt, she's been through this kind of drawn-out negotiation before.
"I could tell right from the get-go as when we went over a few of the issues at hand I could tell where the management team stood," said Cimini. "We have a couple really tough — not tough that couldn't be resolved, but I mean, issues that are so important to us. Right away when we started to talk about it and they said they couldn't budge on one of them I was extremely disappointed."
For her, the crowd on the hospital lawn represented something much larger.
"That's what Berkshire County is," said Cimini. "We're a union county, we all stick together, and we help each other out when we need to."
??This post has been updated. It originally incorrectly referred to Jason LaForest's employer.