Tornado Ravaged Park Reopens After $1Million Project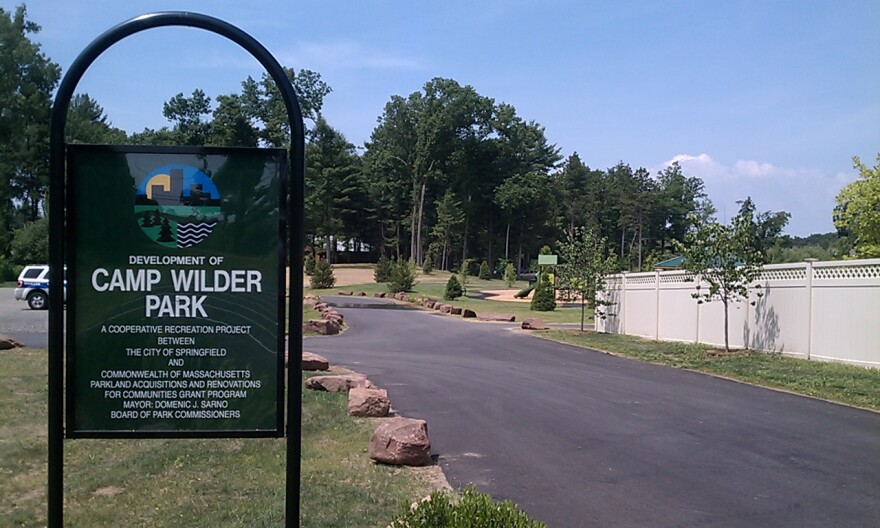 A city park seriously damaged by the June 1, 2011 tornado that hit Springfield reopened today after a nearly $1 million improvement project.
City and state officials joined with residents of the Sixteen Acres neighborhood to praise the Camp Wilder Park renovations. Mayor Domenic Sarno said the park is an "urban oasis" in an area that had been ripped to shreds three years ago by the tornado.
" I almost had a tear in my eye coming in here today. To think of all the debris that was here and now look at this magnificent park. But, we always had a can-do attitude."
Fifteen acres of woodland were lost in the storm. The park renovations include a new open field area, playground, pavilion, benches, improved trails and walkways and a parking lot.
The project was paid for with two grants from the state totaling more than $400,000, a $250,000 federal Community Development Block Grant for disaster recovery, and a $200,000 private donation from the Society of Everett Barney.
Camp Wilder was once a privately- owned day camp on about 26 acres. The city took it over in 1990. The improvements will preserve the open space and the woodlands for future generations, according to Springfield parks director Patrick Sullivan.
"We will continue to plant trees. It will really be something in four to five years when the trees get some size to them."
Margaret Bagge runs the Pioneer Valley Montessori School located next to Camp Wilder Park.
"When the tornado came through this was such a devastated mess. Looking out our windows on it now this was a case of making leomonaide out of lemons. It is beautiful now."
Residents of the Sixteen Acres neighborhood identified rebuilding Camp Wilder Park as a priority during a series of neighborhood meetings with city officials that followed the tornado. The park project was included in the city's master plan for tornado recovery.
Terry Foley, whose house was leveled by the tornado, said the new park is a final piece of the neighborhood's recovery.
"I think it is wonderful. They've done a phenomenal job. I'm glad kids are going to be using it again."
Improvement projects currently underway at four other Springfield parks are funded by $3 million from the state, according to Stephanie Cooper, deputy secretary of the Executive Office of Energy and Environmental Affairs.
"It is critical to the quality of life, the economic well-being, and the environment for people who live in cities for whom parks like Camp Wilder are their backyards. It is a critical investment we believe."
Cooper said the Patrick Administration has created over 170 new parks—mostly in cities--and conserved 110,000 acres of open space. She said a third of the state's residents are now within a ten minute walk of a new park or other open space.