New Massachusetts Cultural District Launched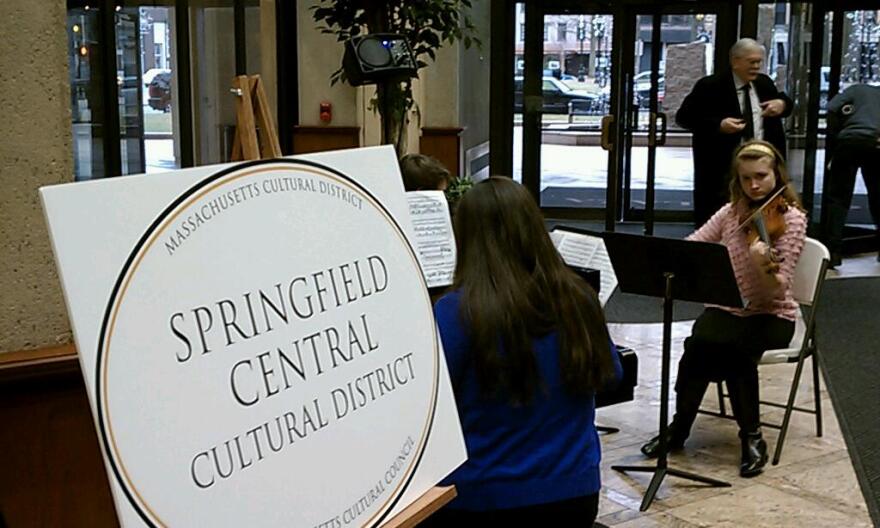 A new Massachusetts cultural district has been launched in Springfield. Advocates for the district believe it will help boost tourism, promote more art and music programs, and preserve historic buildings.
The "Springfield Central Cultural District" is an area of the city's downtown that is home to museums, live performance venues, art galleries and historic buildings. It is the 19th cultural district recognized by the state – a designation not easy to come by, according to Anita Walker, executive director of the state cultural council.
"We have the bar set in a place so that if a visitor goes to any cultural district in Massachusetts they are not disappointed. Because if they are disappointed in one they are less likely to visit the others."
Walker says there is a rigorous application process to be selected as a cultural district. Springfield filed a written application last summer. Representatives of the cultural council then conducted a site visit. Walker said the visit revealed what she called "amazing aspects" to the proposed cultural district including a lot of public art.
The size of the cultural district was reduced from what advocates initially proposed. The district does not include the Springfield Armory and Springfield Technical Community College -- two sites that were part of the original application. Officials said the district as originally proposed was too big an area to comfortably walk.
The cultural district designation does not come with any direct state funding but it will be part of state tourism promotions and there will be technical support provided by the cultural council.
" We do have some initiatives at the Statehouse we are looking for. We would like to see sales tax exemptions for cultural products sold within districts," said Walker.
Advocates for the cultural district in Springfield believe that in addition to attracting more visitors to the city, the designation will also focus attention on the city's rich history, and help to preserve that history, according to Bob McCarroll a member of Springfield Preservation Trust.
"It does not generate the dollars to do it, but if all of a sudden people are more appreciative of the buildings it will bode better for renovation as opposed to neglect and demolition."
Evan Plotkin, who heads a company that owns and manages several commercial buildings in downtown Springfield, believes the cultural district will encourage more people to live in downtown Springfield which would in turn provide a lift for retailers and restaurants.
" This district is just going to be a game changer for Springfield."
Springfield Mayor Domenic Sarno at a recent ceremony marking the launch of the cultural district thanked volunteers who had worked to obtain the state designation.
" This is a big deal. The city of Springfield being put on the map."
The name for the cultural district was chosen by a poll of readers of MassLive.com from a list of six suggestions.