Endurance swimmer and environmental advocate makes a pit stop in Albany halfway through his journey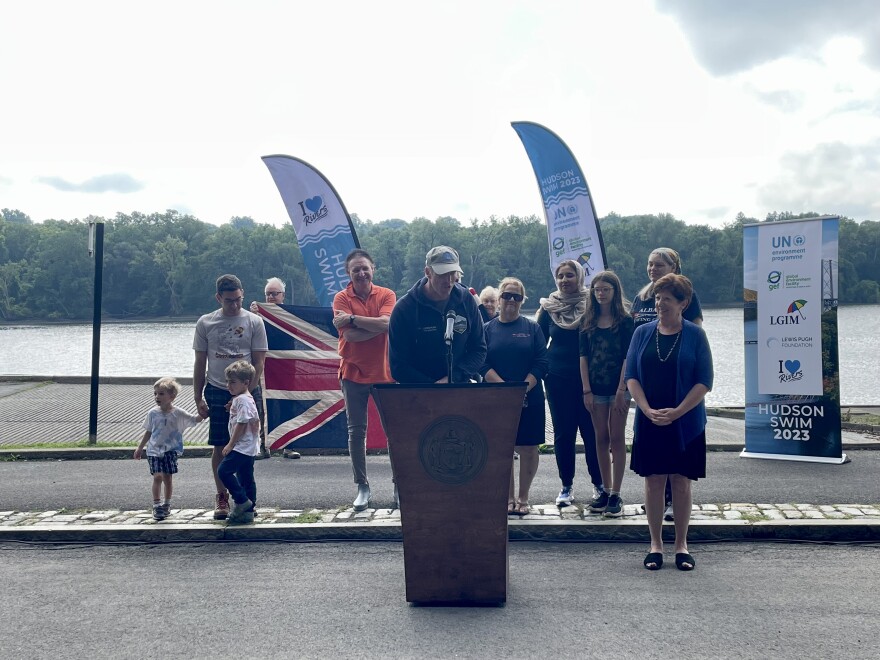 British endurance swimmer Lewis Pugh reached the halfway point of his Hudson River swim this week, but says the real journey is just beginning.
Pugh, the United Nations Patron of the Oceans, kicked off his journey to become the first person to swim the entire length of the Hudson River — more than 300 miles — unassisted earlier this month.
He spoke with WAMC just before leaving.
"The Hudson's unique," Pugh said, "It's unique across the whole world there's no other river like it. I mean you think about it, high up in the Adirondack mountains where you've got bears, and you've got beavers and you've got turkey vultures and then you go all the way down the river until you get to the state capital and then as you enter New York, I'll tell you something, it's a very special view as a swimmer."
Now, just over two weeks later, Pugh has swum from Lake Tear of the Clouds in Keene to the Port of Albany.
The swim is meant to highlight the importance of clean rivers across the world.
Between 1947 and 1977, nearly 1.3 million pounds of PCBs were discharged by General Electric, contaminating the river.
During swims that have taken him to the Antarctic, Red Sea, and English Channel, Pugh doesn't use a wet suit or fins — just a Speedo, cap and goggles.
Speaking at the boat launch in Albany Tuesday, Pugh says it helps him feel more connected to the environment even if the trek is taking its toll.
"We have had an incredible two weeks," Pugh said. "I would say that we are exhausted, rejuvenated and relieved in equal measure. Exhausted because we have swum a long way. It's been a very challenging swim. Some sections have been extremely challenging and so, we are exhausted. Rejuvenated because she is such a beautiful river."
Pugh says the further south he goes the more concentrated the pollution, and he's careful to ingest as little water as possible. He says the pollution is in the sediment and invisible in the water.
"I haven't seen any yet," Pugh said. "But what I have seen is, in the initial stages when I had to go around rapids, I had to sometimes go along roads to then get back down to the river and I did see an awful lot of litter which is just being thrown by cars onto the verge. Ultimately all that then gets washed down and goes down into the river."
But he says there is beauty in his environmental advocacy.
"When I breathe to my right, I've been seeing lush forests. When I breathe to the left, lush forests. You know what's been amazing is we're at the end of August and the leaves are beginning to turn in color and so some of them are, the majority of them are green, but some of them are yellow and red. It's been an absolute beautiful vista."
In the Capital Region, the Beaver Creek Clean River Project, a $46 million investment by the state and local municipalities, began in 2021.
The project is meant to treat sewage before releasing it into the Hudson and Mohawk Rivers. Democratic Albany Mayor Kathy Sheehan says the project, originally set to be completed in March, is nearly done, but it's not the final step.
"Imagine what this river could be like 20 years from now, 30 years from now once those overflows are no longer happening," Sheehan said. "People often talk about tearing down 787 and about kayaking and being able to access the river and interact more with the river. But right now, the river is polluted. And so, I believe that by addressing the issues that we're addressing now all of it underground, all things that nobody wants to talk about, will allow this river to be ready for us when this highway is ready to come down."
Speaking to reporters, Pugh apologized for improper drone use in the Adirondacks earlier in his journey and says his team has been given proper guidance by the Department of Environmental Conservation on where to operate drones.
Pugh's arrival in New York City is set to coincide with the opening of the 77th session of the UN General Assembly on September 13th.